Software Engineer Job in Bangalore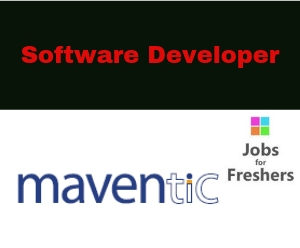 Company Name: Maventic Innovative Solutions
YOP: 2018
Last Date: 23 Mar 2019
Location: Bangalore
Job Description
Development of business scenarios using the latest tools from SAP or Open source.
Working with internal team & customer to understand the requirement to provide user-friendly applications including mobile and portal solutions.
Write Industrial quality programs for global customers.
Continuous learning through On the Job or classroom training.
Desired Skills:
Good English communication skills
Logical ability, good in programming(Java, c, c++),good communication skills
Should not have any backlogs in the academics
Note: The selected candidates should sign a bond for 2.5 Years.
Hiring Process: Group Discussion
Role: IT Software-Engineer
Eligibility:
BE/ B.Tech, ME/ M.Tech (CSE, IS/IT, EEE, ECE),MCA, BCA, B.Sc/ M.Sc (CSE/ IT) from 2017/ 2018 batches.
Company Profile:
Maventic Innovative Solutions
Maventic is an SAP services company which provides its state of the art solutions and services to customers in multiple countries which include India, European countries (like Germany, Switzerland, Belgium, Romania…),Singapore, UAE, and Saudi Arabia. It works with several top manufacturing, retail and professional services organizations across the world.
Key Focus Areas:
Mobile solutions, Cloud-based solutions, Complex SAP development using SAP UI5, SAP PI, EP, SAP CRM, SAP BI and BO, SAP ECC.
Our Products:
Our Products include Massetic suite of solutions( www.massetic.com),Distribution Management System, Service Portal, and mDew ( warehouse applications). Architected and designed by Industry veterans, the solutions are used by multiple Industries across the globe.
Address: AECS Layout – C Block, AECS Layout, Brookefield, Bengaluru, Karnataka 560037
Phone: 08041688341
Email-Id: careers@maventic.com
For getting expert-level training in your Location – Java training in Bangalore | C & C++ training in Bangalore | SAP training in Bangalore