Pragathi Gramin Bank Hiring Freshers In Karnataka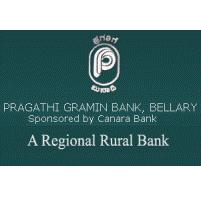 JOB POSTED DATE: 25 January 2013
COMPANY NAME:
Pragathi Gramin Bank
COMPANY-PROFILE:   
               It was in the year 2004 that Government of India, decided to consolidate the RRBs into state-level entities sponsored by same commercial bank. The amalgamation process began in September, 2005.The first RRB in south India was established by Canara Bank on 25.01.1976, by name Tungabhadra Gramin Bank.Subsequently, Canara Bank established and sponsored Chitradurga Gramin Bank, Kolar Gramin Bank and Sahyadri Gramin Banks in Karnataka State.All the above mentioned four RRBs were amalgamated and Pragathi Gramin Bank came into existence on 12.09.2005.
JOB FIELD : Govt/Bank Jobs
JOB ROLE/PROFILE: Officer Scale-I/Office Assistant (Multipurpose)
OFFERED SALARY: RS 14,680-26,535/Month
JOB-LOCATION: Bellary(Karnataka)
LAST DATE: 11 February 2013
REQUIRED QUALIFICATION: 
Any Degree Graduates
EXPERIENCE REQUIRED: Freshers
AGE LIMIT: 18-28 Years(As on 01.06.2012)
NO OF VACANCIES:
Officer Scale-I:56
Office Assistant (Multipurpose):23
CANDIDATE PROFILE:
Officer Scale-I/Office Assistant (Multipurpose):
The candidate should have completed a Degree in any discipline from a recognized University or its equivalent.
Should have good proficiency in local language.
Candidates should have obtained the specified Total Weighted Standard Score as well as score in each test in the RRBs- Common Written Examination conducted in September 2012.
Computer knowledge or awareness will be an added qualification.
Candidates are required to possess proficiency in the Official Language of Karnataka in which Pragathi Gramin Bank is located and must have passed " local language " i.e., Kannada as one of the subjects at Matriculation/Xth Standard.
SELECTION PROCEDURE:
Selection will be made on the basis of performance in RRB-Common Written Examination (CWE) conducted by IBPS in September 2012 and Personal Interview.
Merit list of the candidates for final selection based on Total Weighted Standard Scores (TWSS) obtained by them in CWE of IBPS.
 Personal Interview will be prepared in descending order under each SC/ST/OBC/UR category.
APPLY-MODE: Online
                    Interested and eligible candidates apply this position through the link given  before 11th February2013
TO APPLY: Click here
(Online Application starts from 29 January 2013)
APPLICATION FEE:
Rs100(For General) & RS 20(For reserved candidates)