Agira Gpmv Software Technologies Pvt Ltd Hiring Freshers @ Chennai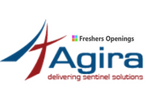 CompanyAgira Gpmv Software Technologies Pvt Ltd
Website
http://www.agiratech.com/

Eligibility    
Any Graduate
Experience   Freshers
LocationChennai
Salary   
 INR 1,25,000 – 1,50,000 P.A.
Industry
IT-Software / Software Services
Functional AreaIT Software – Application Programming , Maintenance
Role CategoryProgramming & Design
RoleSoftware Developer

Job Description:
We are hiring Jr. Developers (freshers) with basic knowledge of Programming languages like Ruby, Python, NodeJs, AngularJs, Android, iOS.
Candidate will go through the learning process after the selection in the interview.
The stipend will be provided for first 3 months training. After that candidate will be appointed as a full-time developer at our company.
Technical Requirement:
Basic knowledge of any of the above-mentioned technologies
Good Logical and analytical skills
Hands on experience of coding
Benefits:
The stipend will be provided for first 3 months.
Attractive salary after full-time employment.
Best Professional Experience
Opportunity for Career & Professional Growth
Healthy Work Environment
Key Skills:
Android, Ruby, IOS, Python, Software Development, Javascript.
Desired Candidate Profile
Basic knowledge of any of the above – mentioned technologies
Good Logical and Analytical skills
Hands on experience of coding
Address:1B, First Floor, Taas Mahal,10, Montieth Road, EgmoreChennai,Tamilnadu,India 600008
Telephone:91-44-43574451
Reference Id:July'17
Company Profile:
Agira Gpmv Software Technologies Pvt Ltd
Agira is a technology company in the arena of business services and domain solutions that support global clients who comprise the current world economy.
For getting expert level training for Python Training in your location – Python Training in chennai | Python Training in Bangalore | For getting online training Python Online Training
One of the fastest growing technology company, Agira Technologies specializes in crafting solutions for entrepreneurs, medium sized organizations, agencies and start-ups. With a blend of ingenuous expertise, system prowess, and cloud compatibility Agira Technologies endeavors to maximize the profit that clients educe from their IT investment. We deliver full-cycle product development, from scoping through production to deployment and support, with a keen attention to detail.
We have a bunch of passionate, innovative and experienced Ruby On Rails Developers to build your products and find solutions for yours.Be it Drupal, WordPress, Laravel or Zend… Our team is highly qualified and experienced in the PHP frameworks to deliver the best code.