Desktop Support Engineer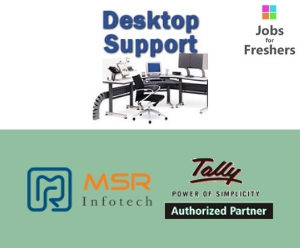 Company Name: MSR INFOTECH
Experience: 0 – 2 Yrs
Salary: ₹1,50,000/p.a
Location: Chennai
Job Description
Greeting from MSR Infotech!
We are hiring for Desktop & Laptop Support (Field) Engineer for Chennai
Dell & Lenovo Desktop and Laptop Service
MCP Certification
Hardware and software troubleshooting, Installation, Configuration.
OS installation in PC such as WinXP, Win7, Win8, win10, Win12.
Assembling and Disassembling of Computers, Troubleshooting hardware problems
Desktop, Laptop, Printer Troubleshooting.
Hardware Support.
 Basic Knowledge of Lan, Wan, Switches, Routers.
Hands on experience on Dotmatrix printer, Laserjet Printers, DMP Printers.
Calibration Of Printers.
Eligibility: Any Graduate
Role: Customer Support Engineer/Technician
Function: IT Hardware, Technical Support, Telecom Engineering
Address: 74, Bazaar Main Rd, Meenatchi Sundareswarar Koil, Sadasiva Nagar, Madipakkam, Chennai, Tamil Nadu 600091
Phone: 089038 38147
E-mail-Id: msrtally@gmail.com