Dot Net Developer Jobs in Chennai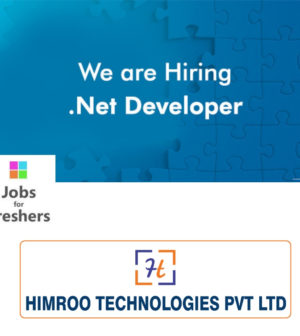 Company Name: Himroo Technologies
Salary: ₹2,70,000 – ₹3,40,000 a year
Key Skills: Microsoft SQL Server, JavaScript, .Net, Java
Location: Chennai
Job Description:
Good in ASP.Net and C#.net(must)
Good in SQL Server.
JavaScript
Excellent coding skills in C#.Net,ASP.Net, SQL-Server.
Strong fundamentals in Dot net, Database, and coding.
Design and Develop new software solution and products.
Enhance and maintain existing software products and solutions.
Maintain various software and design documentation.
2017 and 2018 Graduates.
Up to 2 backlogs accepted.
Job Role: IT Software-Engineer
Hiring Process: Face to Face Interview
Company Profile: 
Himroo Technologies Private Limited was set-up as Leat Precision Machines Private Limited in 2004. The company set-up an Export Oriented Unit at Coimbatore to manufacture and supply brake drums for heavy vehicles in the US and European markets. After the manufacturing operations were wound up, the company entered into information technology services and is presently an Associate of Rediff.com Limited and Bharti Airtel Limited. Besides the company is into the development of IT solutions and products to cater to financial service requirements as well as educational institutions. The company is also in the process of setting up training institutes to provide job-oriented technical and soft skills for training and placement of graduate engineers without work experience.