Opening for PHP Developer in Chennai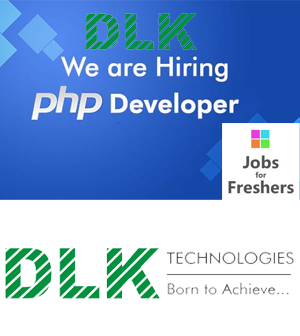 Company Name: DLK Technologies Pvt Ltd
Experience: 0-1yr
Salary Range: Salary will not a constraint for the Right Candidate and it May Vary Based on Experience and Skill Set.
Walk-in Date: 04-Dec to 07-Dec 2018.
Role: PHP Developer
Location: Chennai
Job Description
You will be expected to work comfortably or be knowledgeable about the following tools and languages:
Object-orientated PHP5
Experience with PHP Frameworks such as Laravel, CodeIgniter or a general understanding of MVC frameworks
Experience designing and implementing enterprise integrations using REST web services and messaging Familiarity with modern PHP frameworks (Zend, Laravel, and/or Symfony) and design patterns (MVC)
Required Skills

Experience with plugin and theme development for WordPress
Familiarity with PHP ORM's such as Eloquent or RedBeanPHP
RESTful API Experience (and experience with PHP cURL library)
Experience with Command Line-based PHP scripting.
MySQL/PostgreSQL and/or Oracle Databases
HTML and current CSS styling
JavaScript, JQuery or Prototype experience is a plus.
Linux command line, BASH, and writing shell scripts
Subversion or GIT source code management tools
Agile/SCRUM development using tools like Jira, GIT, Wiki
Quick learner, resourceful, and able to adapt in a fast paced environment
Good communication skills must work well in a team environment
Desired Skills

Proficiency in specific AWS products and services such as Cloudformation, S3, SNS, SQS, ELB, RDS, DynamoDB, etc. Experience in utilization of ESB such as MuleSoft
Familiarity and/or working experience in other programming languages like Java and/or Python or frameworks such as Node.js is a plus
Required Education
Bachelor's, Master's degree
Company Profile
Greetings from DLK TECHNOLOGIES PRIVATE LIMITED!!!
We offer excellent growth chance for the committed, ambitious, highly expert individuals with effective communication skills and willing to learn and share knowledge in tune with the continuously changing requirements. Want a stage to make the best use of your innovative excel and talents at work?
Today, DLK is a key player in the field of Big Data, Embedded Analytics, Mobile, Sales Automation and Sales Performance. While we have grown in our product offering, our philosophy remains unchanged! Deliver Value! Deliver Now. Started off as a professional Development company in 2012, we at DLK, always excelled in solving technical challenges.
HR Recruiter
Divya Bharathi – 7299951536
Venue: Door No: 68 & 70, Ground Floor, No. 172, Raahat Plaza, (Shopping Mall), Arcot Road, Vadapalani, Chennai, Tamil Nadu – 600 026.
Phone No: 04442032818
Email-ID: hrmanager@dlktech.co.in
Website: www.dlktech.co.in