PHP Developers Jobs in Chennai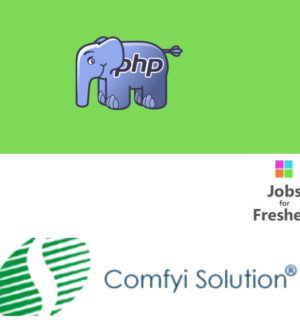 Company Name: Comfyi Solution
Experience: 0 – 5 yrs
Salary: INR 1,00,000 – 6,00,000 P.A.
Key skills: PHP, Javascript, HTML, Prestashop, CSS, PHP trainee, Open Source, PHP fresher, Software Developer, WEB
Location: Chennai
Job Description
Responsible to work with PHP with various open source frameworks, to code & to test the web applications.
Walk in Immediately with 2 hard copies of resumes to 'COMFYI SOLUTION' for a technical round of discussion with 2 hard copies of resumes.
Industry: IT-Software / Software Services
Functional Area: IT Software – Application Programming, Maintenance
Role: Software Developer
Desired Candidate Profile
Any Fresh Candidate must have basic knowledge of PHP can apply.
Experience candidates with minimum 1 year also apply for this.
should understand client requirements & functional specifications
Experience in HTML, CSS and Database knowledge required.
Company Profile:
Comfyi Solution
COMFYI SOLUTION proffers continuum Resource Management in various domains on IT, Software Services, ITES, NON-IT & Finance across the Indian industrial segments.
Address: 1768, I-Block, 6th street, 18th main road, Anna Nagar, Chennai, Tamil Nadu 600040
Recruiter Name: Gopinath
Email Address: comfyisolution@gmail.com
phone: 91-9381278999