React Native Developer Jobs in Chennai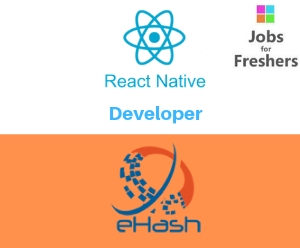 Company Name: Ehash Software Solutions Pvt Ltd
Experience: 0 – 2 yrs
Location: Chennai
Job Description
1-2 years of working experience in React Native.
Must have experience in using REST API with JSON.
Strong knowledge in HTML5, CSS3, Bootstrap.
Prior experience in developing cross platform mobile application.
Knowledge in interfacing with third-party or open source controls.
Experience in SQL Server or Oracle database.
Industry: IT-Software / Software Services
Functional Area: IT Software – Application Programming, Maintenance
Role: Software Developer
Key Skills: JSON rest, SQL server,  HTML5, Oracle database, Bootstrap, Native React Native, Node.JS, React.JS, Oracle Mobile Application Development
Company Profile:
Ehash Software Solutions Pvt Ltd
eHash is a software development company to offer smart, cost-effective, bespoke software solutions for small to large organizations across a variety of different sectors.
Recruiter Name: Premchandar
Email-Id: jobs@ehashsoft.com
Address: 1st St, LIC Colony, Velachery, Chennai, Tamil Nadu 600042
Phone: 044 2243 2207
For getting expert-level training in your Location – SQL training in Chennai | React JS training in Chennai | Node JS training in Chennai | Oracle DBA training in Chennai | HTML5 training in Chennai