Software Developer Freshers Jobs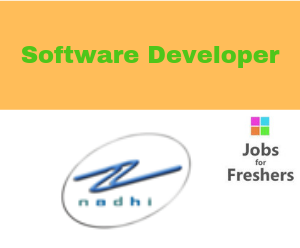 Company Name: Nadhi Information Technologies
Qualification: ME/M.Tech/M.Com/BCA/MCA/BE/B.Tech
YOP: 2017 – 2019
Last Date: 24 Apr 2019
Location: Chennai
Job Description:
Nadhi is looking for candidates passed out in 2018 or 2019 in B.E/B.Tech/MCA/M.Tech who can join our team immediately.
Junior developers will start working on our core product nPulse's code base.
Responsibilities will include:
Understanding client requirements and translating them into elegant, high-quality, high-performing code
Work with the Product Management team to improve existing features
Assist the company in automating testing, DevOps and other special projects such as IoT and ML/AI based projects
Skills Required:
Strong coding skills in Java/J2EE, SQL, with a focus on elegance and accuracy
Knowledge of JavaScript/JQuery/AngularJS is preferred
Excellent communication skills
Ability to work well in a team
Excellent problem-solving skills
Quick and self-learner
Android/iOS knowledge preferred
Adapt to a start-up environment
Interview Process:
Online Assessment Test
Face to Face Interview
Hiring Process: Written-test, Face to Face Interview
Role: IT Software-Engineer
Company profile:
Nadhi Information Technologies
We are a Chennai-based technology and product company which has a web and mobile-based product targeted towards the Infrastructure industries (Power plants, large contractors, real estate developers etc.) We're located in Adyar, Chennai and incubated from the IIT Madras Research Park, and have clients all across India and one in UAE. We're also exploring the US market currently. We're a small shop, about 20 people, split between the Tech team and the implementation Consulting team. We are primarily an enterprise Java shop, but lately getting into mobile and big data/analytics type stuff in a big way.
Address: #4 Ground Floor, 2nd Crescent Park Street, Gandhi Nagar, Adyar, Chennai, India.
Phone: 04443546224
Email-Id: info@nadhi.in
For getting expert-level training in your Location – Java training in Chennai | J2EE training in Chennai | SQL training in Chennai