InfomakTechnologies Opening for Freshers Jobs in Chennai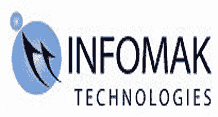 InfomakTechnologies Opening for Freshers Jobs in  Chennai
Company      Infomak Technologies
Website        www.infomaktech.com
Eligibility       BE
Experience     Freshers
Location        Chennai
Job Role      Software Developer Trainee

JOB SUMMARY:
Company Profile:
INFOMAK TECHNOLOGIES is a leading global technology services company delivering technology-driven business solutions that meet the strategic objectives of our clients. We differentiate ourselves in the IT market place by providing unmatched business value to customers through a combination of business analysis process excellence, quality frameworks and service delivery innovation. We provide web based solutions that are result-oriented, well-knitted and perfectly executed! Established with an eye for generation-next web based solutions, we take great pride in offering as web designing,Website Solution Provider,Communication,Information Sharing and Portal Development,web advertisement,internet marketing etc.
Job Description:
We, Infomak Technologies is a Software Development firm offering complete dedicated project oriented training with complete hands on experience conducted by the Developer.
Are you a Java / Dot net talented Guy join in our Development Team via
1) Technical Round, 2) Communication Round, 3) HR Round
Bring your mail copy and submit to the front office.
Walk-In Date: 21/03/2014 to 25/03/2014
REF: Mr Chandru (HR)
Contact Name: chandru
Contact Details: 9884576286