Indian Coast Guard Hiring Freshers In India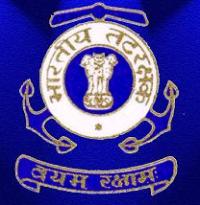 JOB POSTED DATE: 02 February 2013
COMPANY NAME: Indian Coast Guard
COMPANY-PROFILE:                
                 Emergence of the Coast Guard in India on 01 Feb 1977 as a new service was the result of an awareness that had been growing for some time in the Government for the requirement to enforce National Laws in the waters under national jurisdiction and ensure safety of life and property at sea. It was also considered desirable that these law enforcement responsibilities should be undertaken by a service suitably equipped and modelled on the Coast Guards of advanced nations like USA, UK etc leaving the Navy to exercise the fleet for its wartime role.

JOB FIELD :
Govt/Defence/Core/Technical
JOB ROLE/PROFILE: Technical Yantrik
 
OFFERED SALARY: RS 20,000/Month
JOB-LOCATION: Anywhere in India
LAST DATE: 14 February 2013
REQUIRED QUALIFICATION: Diploma

EXPERIENCE REQUIRED: Freshers
AGE LIMIT: Born between 01 Aug 1991 to 31 Jul 1995
CANDIDATE PROFILE:
The candidate should be Matriculate and three years Diploma in Mechanical / Electrical/ Electronic Engg. with 60% in aggregate from an education board recognised by Central/State Government.
5% relaxation in the above % for sports person of National level and wards of Coast Guard uniform personnel deceased while in service.
MEDICAL STANDARDS:
Minimum height 157 cms. Reduction in height for candidates from hilly areas and tribal areas will be in accordance with the Central Govt. orders.
Chest: Should be well proportioned. Minimum expansion 5 cms.
Weight: Proportionate to height and age +10% acceptable. Hearing: normal
No Cardio-vascular disease, surgical deformities like knock knee, flat feet etc. infection of ears, no history of fits or psychiatric ailment, varicose vein, corrective surgery for eye sight etc.
Visual Standards- 6/24 (Better Eye) and 6/24 (Worse Eye).
Candidates are advised to get their ears cleaned for wax and tartar removed from teeth prior to examination. 
INTERVIEW CENTRES:
The written test and interview will be conducted at following recruitment centres:

APPLY-MODE: Online

HOW TO APPLY:
Interested and eligible candidates can apply through the given link below on or before 14th February 2013
TO APPLY: Click Here (Online Application Starts from 04 February 2013)
FOR MORE DETAILS: Click here
WEBSITE DETAILS OF THE COMPANY: http://indiancoastguard.nic.in/