Aspire Systems Jobs For Freshers in chennai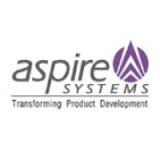 Aspire Systems Jobs For Freshers in chennai
Company Name: Aspire Systems India (P) Ltd
Website:             
www.aspiresys.com
Qualification:       B.E / B.Tech
Experience:         0 to 1 Years
Location:              Chennai
Job Role:              Trainee

Job Description:
Aspire Systems Hiring BE, B.Tech Freshers – 2011 & 2012 Passed Out – Last Date: 5th April 2013
Hi,
Greetings from Aspire Systems ! !
Aspire Systems(an IT Firm) is a fast-growing product development firm focused creating innovative products. Aspire has hundreds of man-years of experience working as an engineering partner for software companies. Aspires product development team is spread between its offshore innovation center in Chennai, India, and offices in the United States
We are planning for an Interview Drive for B.E / B.Tech Freshers (CSE & IT) on 6th April 2013 Saturday.

Eligibility:
– Graduation B.E / B.Tech
– Department Computer Science / Information Technology (Other departments not eligible)
– Year Of Pass Out 2011 / 2012
– Percentage Should have 75% & above in B.E / B.Tech (Candidates with percentage below 75 are strictly not eligible)

Technical Eligibility:
Should be very strong in either of the languages C / C++ / Java.
Should be good in logical thinking.

How To Apply:
If your profile is shortlisted, we will send the Hall Tickets along with the venue details to your mail id in the following week. Please keep checking your mails, you will receive the Hall Ticket on or before 5th April 2013 Friday 4:00 pm.
Your profiles are invited till 5th April 2013 – Friday 4:00 PM