Aspire Systems Jobs For Freshers in Chennai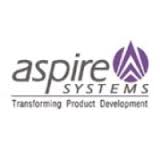 Aspire Systems Jobs For Freshers in Chennai
Name: Aspire Systems India (P) Ltd
Website:www.aspiresys.com
Job Details
Education: B.E / B.Tech
Experience: 0 – 1 Year
Location: Chennai
Job Description
Testing Engineer
We are planning for an Interview Drive for B.E / B.Tech Freshers (CSE & IT) on 11th May 2013 – Saturday. Please find below the details.
Eligibility:
Graduation – B.E / B.Tech
Department – Computer Science / Information Technology (Other departments not eligible)
Year Of Passing – 2012 / 2013
Percentage – Should have 65% & above in B.E / B.Tech (Candidates with percentage below 65 are strictly not eligible)
Technical Eligibility:
Should be very strong in either of the languages C / C++ / Java
If the above mentioned requirements matches your profile & if you are available in Chennai on 11th May 2013 Saturday then please send your acceptance mail to star@aspiresys.com subject of your email should be in this format  Name-Percentage-Degree & Department   Eg: Kumar – 65% – B.E CSE
If your profile is shortlisted, we will send the Hall Tickets along with the venue details to your mail id on 9th May 2013 – Thursday by 5:00 pm.
Please check your mails after 5:00 pm on 9th May 2013. Please be informed that you will not be allowed to take up the interview process without the Hall Ticket.
Your profiles are invited till 9th May 2013 – Thursday.
Note: Candidates who have taken up the interview with us already in last 6 Months are not eligible to take up the interview this time. But candidates who have applied last time but not attended the interview can reapply again.