Capgemini Jobs Openings For Freshers in Bangalore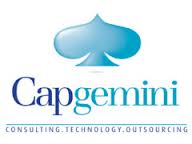 Capgemini Jobs Openings For Freshers in Bangalore
Name Of The Company: Capgemini
Experience Required: 0-1 years
Educational Qualification: Bachelor's degree or equivalent
Job Designation: Core Java – Junior Engineer
Functional Area: IT Software
Type of Industry: IT-Software Services
Required Candidate Skills :
Experience: 0-1 Year
Primary Skills (Must have) : SCJP Certification , BSc
Secondary skill (Good to have) : Core Java/J2EE

Trained/Knowledge on skills required.

Flexible to learn or work on other technologies

Communication has to be excellent both verbal and written (with command over English language).

Ability to logically troubleshoot technical problems. Strong analytical and problem solving skills.

Ability & willingness to learn and support different technologies & applications 6. Ready to relocate

Work in 24/7 support
Package Offered : Best in Market
Job Profile :
Resources who are ready to work in any shift,any technology and ready to relocate as per project requirement.

Technical requirement for 'CoreJava' OOPs, Polymorphism, Inhetitance, Overloading, JDBC, Exception handling, Multithreading, Networking, AWT, Swings, reflection.
Work Location: Bangalore
About company:
Capgemini is headquartered in Paris, France and operates in more than 30 countries. We are, above all, a people company- 90,000 people in North America, Europe, and the Asia Pacific region. Management and support roles aside, our employees are grouped into four major disciplines, each of which is governed by its specific economic rules, and managed with its own profit. Capgemini helps clients deal with changing business and technology issues. Our relationship with clients is a partnership-we bring our experience, best practices and tools to apply to clients unique requirements
Website: www.in.capgemini.com