Surprise Solutions Jobs For Freshers in Chennai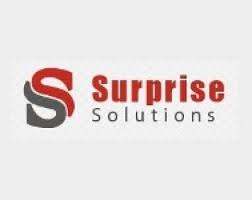 Surprise Solutions Jobs For Freshers in Chennai
Company      Surprise Solutions
Website        www.surprisesolutions.com
Eligibility        16 years of education mandatory
Experience     Fresher
Location          Chennai
Job Role         Software Engineer

JOB SUMMARY:
Company Profile :
Surprise Solutions is a highly professional IT services & solutions company delivering quality web solutions for the most demanding projects. We offer a range of web development services including consultancy and application support. We combine business domain knowledge with technology competence and proven methodologies to deliver high quality results in a cost-effective manner to maximize your competitive advantage and productivity. We are a NASSCOM registered member & are ISO 9001 certified for our stringent delivery processes.
Job Description :
1. AnOpportunityto set your career in Software Engineering!!!
2. Designing, coding and debugging applications in various software
3. Year of passing should be 2012/2013 only.
4. Must be a team player, posses a good attitude and be self-disciplined.
5. Should be willing to travel onsite at company's cost as & when required.
Candidate Profile :
1. Candidate should have decent analytical, logical & communication skills.
2. Basic knowledge of programming in C or C++ or java or dot net or any open source platform is desirable
3. Must have excellent Software engineering skills, highly organized and self-motivated.
4. Any fresh under Graduate/Post Graduate with a minimum aggregate of 55 %( Mandatory) can apply. Computer Science related background preferred
Terms& conditions :
18 months service level agreement is applicable.
Interview pattern :
1. Pre placement round(personal)
2. Aptitude Test & technical test
3. Techno functional analysis round (with our senior and junior software engineers)
4. HR Round
Walk in Date : September 26 & September 27
Walk in Time : 10 am-12 noon
Joining Date :September last week (2013)-Candidates who are willing to join immediately alone shall walk in.
Venue Address:
Surprise Solutions,
97/98 Nehru Salai,
Ashok Nagar,
Chennai-600083.
E-mail id: recruitment2013@surprisesolutions.com
Contact Number: 044-24714776/24711776