Freshers Hiring for US IT Recruiters
By
Admin
on April 7, 2018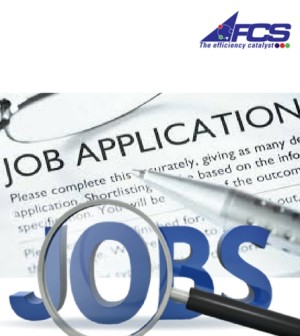 Job Description
FCS Software Solutions Ltd. are eagerly looking for Technical Recruiters for its Noida Office. (Only Freshers from Technical Background can apply)
Need Freshers for IT Recruitment who wants to move in US Staffing domain and can earn good incentives. (Preferred only Technical Background Candidates with Good Communication Skills). 
Please apply with your updated resume or can call ASAP to the given below no. to schedule the interview.
HR EXECUTIVE- Meenakshi Agarwal
Contact No. 08383035940 , 01203061117
Interested Candidates Can email their profile on magarwal@fcsltd.com
Desired Experience : Freshers (2015,2016,2017 batch passout) with good communication skills.
Designation:Technical Recruiter OR US IT Recruiter .
Qualification: B.SC(IT)/BCA/B.Tech(CS/IT), BCA,MCA, PGDIT or Any IT Diploma in 2 Yrs+ Program
Required Skills :
Freshers (2015,2016,2017 batch passout)
Ability to demonstrate Full Recruiting Lifecycle (gathering requirements, candidate prospecting, candidate screening, Negotiations, candidate submission, follow-up, Interview & On Boarding etc)
Proficient in sourcing right candidates through extensive portal search and Vendors.
Should have excellent communication, convincing skills and negotiation skills
Excellent understanding of technology and associated technical skill sets
Candidate shall be self motivated & high on achievement orientation, Should have the ability to deliver results and handle pressure.
Comfortable to work in night shift and Must be able to commute by himself
Roles & Responsibilities 
Responsible for handling IT requirements from US based clients.
To understand IT requirements of clients IT resource need and deliver qualified consultants
Sourcing and screening potential IT candidates from effective usage of Internal Systems / Database, Job Portals, Postings and Networking within time frame
Posting vacancies on portals. Match the profile of the candidate on technical grounds
Responsible for negotiation, paper work validation and closed candidates for assigned requisitions.
Responsible for editing and formatting resumes matching consistency and giving visual and technical perfection to them for presenting it to clients.
Maintaining Candidate/Vendor relation on the progress of submittals made, Interview Coordination and taking care of the joining formalities.
Compensation and Benefits :
1) Excellent Salary structure
2) Best in the Industry Monthly Incentive structure
3) Employee friendly Corporate Work culture
4) Exposure to interact with US people
5) Timings are fixed with Saturday and Sunday Off
7) Lucrative Rewards & Recognition
8) Medical Insurance Benefits
Work Timings: 08:30pm to 05:30am ( Monday to Friday) Night Shift….. Cab is only for female Candidates..
Salary:INR 1,75,000 – 2,50,000 P.A. Incentives+meal Reimbursement+medical Insurance
Industry:Recruitment / Staffing
Functional Area:HR , Recruitment , Administration , IR
Role Category:HR/ Recruitment / IR
Role:Recruitment Executive
Employment Type:Permanent Job, Full Time
Keyskills
Technical RecruitmentHRScreeningSourcingRecruitment ConsultingUS StaffingInterview CoordinationJoining FormalitiesNight ShiftMedical Insurance
Desired Candidate Profile
Must have very good verbal and written skills.
Must be very good in Aptitude.
Ready to work in night shift.
Must be a good communicator.
Education-
UG:B.Tech/B.E. – Any Specialization, Computers, Electronics/Telecommunication, BCA – Computers, B.Sc – Any Specialization, Computers
PG:MCA – Computers, M.Tech – Any Specialization
For getting expert level training for  Dot net Training in your location – Dot net  Training in Chennai |Dot net Training in Bangalore | Dot net  Training in BTM | Dot net  Training in Tambaram | Dot net Training in Sholinganallur  | Dot net Online Training.
Company Profile:
FCS Software Solutions Limited
FCS is a leading provider of IT services. In the past one decade of its existence, FCS has carved out a niche for itself in core ITareas like E-learning, Digital content services, Resource staffing, BPO and Product engineering services. As a business innovator, FCS helps clients achieve extraordinary results from their customer relationships, business operations, and technology. Clients choose FCS for the impact we achieve, our commitment to their success, and the straightforward and collaborative way we work with them. Our customers list include Medidata, Canon, Merck, Samsung, TCS, Axalta Coating Systems and many more Fortune 500 companies. In annual (2011) RD Scorecard of the companies from across the world, the European Unions executive body European Commission (EC) has ranked FCS Software Solutions 18th among Indian firms. We have state-of-the art facilities based at Noida and Chandigarh running 24×7. Our continuous growth has been made possible by the result of livewire, energetic and focused IT workforce of more than 900 highly competent professionals who have worked extensively in the areas of application development and support, e-learning solutions, Business, Infrastructure Management, and BPO. For more details, click on www.fcsltd.com.
Recruiter Name:Meenakshi Agarwal
Contact Company:FCS Software Solutions Limited
Address:A-86, Sector 57, NoidaNOIDA,Uttar Pradesh,India 201301
Email Address:magarwal@fcsltd.com
Website:https://www.fcsltd.com
Telephone:0120-3061117
Reference Id:Technical Recruiters-Freshers…..