Android Developer Fresher Jobs in Chennai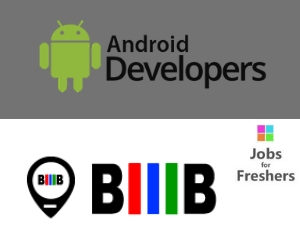 Company Name: BIIIB
Experience: 0 – 2 yrs
Qualification: ME/M.Tech, BSc, BCA, BE/B.Tech, MS, MSc, MCA
Key Skills: Android, Angular JS, iOS, Python, Mobile App Development, Node JS
Last Date: 06 May 2019
Location: Chennai
Job Description:
This is to inform "biiib.com – Emerging E-Commerce System" conducts a walk-in recruitment drive in Chennai for the following position Software Developer (Mobile App/Web App) fresher. This is a permanent job applicant must have the following qualification:
MCA, BE or B.Tech (Computer Science), ME or M.Tech (Computer Science), BCA or BSC (Computer Science)
Working knowledge in any Programing Language and SQL Concepts.
Basic understanding of Object Oriented concept (OOPS).
Good communication and logical skills.
Working Knowledge in Mobile App development will be added advantage.
Candidates will be appointed immediately based on skills. If needed candidates might have to take the training program for 3 months.
Hiring Process: Written-test, Face to Face Interview, Telephonic Interview
Role: IT Software-Engineer
Company Profile:
BIIIB is an emerging e-commerce company that will provide high quality technical and services to it's customers.We at BIIIB are on a mission to make a million lives comfortable. In the ever changing market scenario, why buy and waste money, just BIIIB – A Combination of Purchase-cum-Rental. Own product by paying its value as refundable caution deposit and 0.5% to 1% as monthly rental for 3 years. Return anytime after 3 years for the caution deposit refund or product exchange. BIIIB has an outstanding team at the supervisory, operational, management level and advisors with 10+ experience in the industry.The company is backed up by Agendha Aggregation Group.We provide Cars, Bikes, Electronics and appliances as well.We operate our services in Chennai. We are headquartered in Chennai, India.
Address: No. 9, 1st RAJAGARDEN ROAD, Kottivakkam, Chennai 600041
Email-Id: info@biiib.com
Phone: +919176000044
For getting expert-level training in your Location – Android training in Chennai | iOS training in Chennai | Node JS training in Chennai | Angular JS training in Chennai | Python training in Chennai