Software Fresher Jobs in Chennai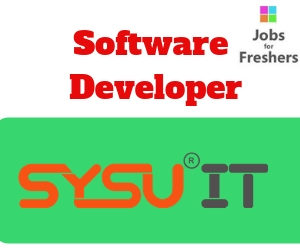 Company Name: SYSU Information Technology Pvt Ltd
Experience: 0 – 3 yrs
Salary: 1,50,000 – 6,00,000/p.a
Location: Chennai (Alwarthirunagar)
Job Description
We have 10+ new hire for both Freshers and Experience in Microsoft DOT.NET, C#, SQL Server, DBA, ASP.NET, MVC, WCF, SOA, Python, Node.JS, MongoDB, Machine Learning, AI and latest technologies.
If you have knowledge of any of the above technologies and should have hands-on experience, please submit your resume online or walk-in
Industry: IT-Software / Software Services
Functional Area: IT Software – Application Programming, Maintenance
Role: Software Developer
Key skills: SQL Server DBA, WCF, C#, Node.JS, Database administration, Machine learning, .Net, Asp.Net, MVC, Python
Education: UG: Any Graduate
Company Profile:
SYSU Information Technology Private Limited
SYSU Information Technology is a global leader in technology services and consulting. We create and execute strategies for our client's digital transformation. From engineering to application development, knowledge management and business process management, we help our clients find the right problems to solve, and to solve these effectively.
Address: Janaki Nagar, Alwartirunagar, Valasaravakkam, Chennai, Tamil Nadu 600087
Phone: 044 4860 6440
Email-Id: contact@sysuinfotech.com