Aspire Systems Jobs For Freshers in Chennai 2013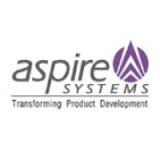 Aspire Systems Jobs For Freshers in Chennai
About Company
Name: Aspire Systems India (P) Ltd
Website:www.aspiresys.com
Job Details
Education: B.E / B.Tech / MCA
Experience: Fresher-2013
Location: Chennai
Job Description
Testing Engineer
We are conducting an Interview Drive for B.E / B.Tech / MCA Freshers (CSE & IT) from 29th July – 2nd August (Mon-Fri). Please find below the details.
Eligibility:
Graduation – B.E / B.Tech / MCA
Department – Computer Science / Information Technology (Other departments not eligible)
Year Of Passing – 2013 Only
Percentage – Should have 70% & above in B.E / B.Tech / MCA
Technical Eligibility:
Should be very strong in either of the languages C / C++ / Java

Should be good in logical skills.
Soft skills Eligibility:
Should possess good communication

If the above mentioned requirements matches your profile & if you are available in Chennai on the coming week then you can apply for this requirement.

If your profile is shortlisted, we will send the Hall Tickets along with the venue details to your mail id on a daily basis. Please check your mails after 5:00 pm from today. Please be informed that you will not be allowed to take up the interview process without the Hall Ticket.
Your profiles are invited till 1st August 2013 – Thursday.
Note: Candidates who have taken up the interview with us already in last 6 Months are not eligible to take up the interview this time. But candidates who have applied last time but not attended the interview can reapply again.