BlueWhale Solutions Job Openings For Freshers in Chennai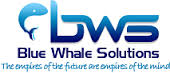 BlueWhale Solutions Job Openings For Freshers in Chennai
Company     BlueWhale Solutions

Website       www.bluewhalesolutions.com

Eligibility      BE/ME /MCA
Experience   Freshers
Location      Chennai
Job Role     Software Developer

JOB SUMMARY:
Company Profile:
We have been mainly focusing on Enterprise solutions, which vary from Business Analytics to ERP Analytic implementations. Bluewhale has good foothold with its entire customer base in North America by which its market growth was 200% every year. Bluewhale Solutions is mainly focusing to master its vertical expertise on mobile analytics and Orcale's ERP products.
Job Description:
1. Design and build advanced applications for the iOS platform
2. Collaborate with cross-functional teams to define, design, and ship new features.
3. Unit-test code for robustness, including edge cases, usability, and general reliability.
4. Work on bug fixing and improving application performance.
5. Continuously discover, evaluate, and implement new technologies to maximize development efficiency.
Contact Name :
Kumari Contact Detais:
Blue Whale Tower
No: 9/3 Muthial Reddy Street ,
Alandur, Near St.Thomas mount station,
Chennai 600016.
Email: bws14gnh@gmail.com
Contact: 09629608019, 07200076139, 04427176032