MAQ Software Jobs For Freshers in Hyderabad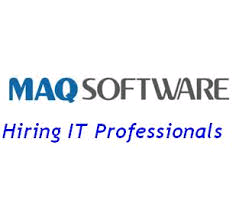 Company        MAQ Software
Website         www.maqsoftware.com
Eligibility       BE/BTech (CS/IT/IS/EC/EE) / MCA
Experience     Fresher
Location          Hyderabad
Job Role          Systems Engineer

JOB SUMMARY:
Company Profile :
MAQ Software is a digital marketing and a technology solutions company that helps customers reach their markets effectively on time and on budget.
Founded in 2000, the company employs over 300 people in three engineering centers located in Redmond and India (Hyderabad and Mumbai). Our solutions use advanced Business Intelligence features of SQL Server 2012, the latest cloud computing trends including Windows Azure and the latest form factors such as Windows Phone 8.
Job Description :
1. Monitoring systems/servers and functions.
2. Support hundreds of production Windows servers in a 24X7 shift model.
3. Identify and document common recovery procedures for service impacting incidents.
4. Establish and follow a ROB (Rhythm of Business) to ensure that all break/fix issues are resolved in a timely manner or escalated to the appropriate group.
5. Develop, communicate and drive Service Improvement Plans to maintain an environment of continuous improvement with a focus on rapid growth, world class quality, and cost efficacy.
6. Drive operational aspects of incident management, ensuring SLAs for time, quality, and customer satisfaction are met for our global infrastructure.
7. Managing customer interaction with utmost professionalism, courtesy and responsiveness.
8. Opportunity to work on latest Microsoft products/technologies like Windows Server 2012, Windows 8, Hyper V, SharePoint 2013, SQL Server 2012, Microsoft Dynamics AX 2012, Microsoft Dynamics CRM, Windows Phone 8 etc.
Job Requirements:
1. Demonstrate strategic thinking, quantitative and analytical skills, team leadership, and collaboration
2. Excellent problem resolution, judgment, and decision-making skills
3. Excellent communication skills (spoken and written English)
4. Customer orientation
5. Ability to multitask and work 6 days a week (48.5 hours per week at a minimum)
Eligibility:
1. 2013 batch BE/BTech (CS/IT/IS/EC/EE) / MCA
2. Good academics (60% throughout)
3. Good pH score