Meil Job Openings For Freshers in Hyderabad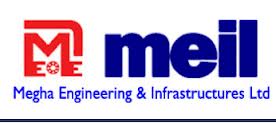 Meil Job Openings For Freshers in Hyderabad
Company      Megha Engineering and Infrastructures Ltd.
Website        www.meil.in
Eligibility      B.Tech/B.E
Experience    0 – 2 yrs
Location       Hyderabad
Job Role      Trainee Engineer

JOB SUMMARY:
Company Profile:
MEIL with a self induced drive to excel is focusing on making India Infrastructure-powered. Since its inception, the company has its prowess to create products with superb build quality, highest level of refinement and efficiency. The team is taking the baton forward to newer destinations by quickly emerging as a name to look out for in the engineering and infrastructure space, respected greatly on virtue of its engineering excellence. With cutting-edge design, manufacturing and execution as our forte, we stand at the forefront of technological innovation in India's infrastructure development. To add a feather to its flock MEIL has secured 49th position in an recent survey by Outlook Business magazine, MEIL service verticals: Irrigation Drinking Water Power Hydro carbons Transportation Buildings Industrial Infrastructure Railways Media Manufacturing Facility.
Job Description:
1. Assisting the programming team in all aspects of multimedia content management
2. Should have a B.Tech/BE in any discipline with strong demonstrated skill sets in multimedia (video, 2-D and/or 3-D animation, etc.).
3. Excellent (top 2%) communication
Desired Profile:
1. Should be able to verbally communicate in Telugu, English, Hindi.
2. Should be willing to travel extensively inside India.
3. Should be willing to learn new skills and technology