Surprise Solutions Job Openings For Freshers in Chennai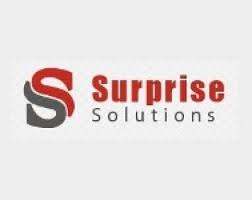 Surprise Solutions Job Openings For Freshers in Chennai
Company      Surprise Solutions
Website         www.surprisesolutions.com
Eligibility       Any Graduate (BBM, BBA, MBA Preferable).
Experience     0 to 1 years
Location          Chennai
Job Role        Business Development / Marketing Executive.

JOB SUMMARY:
Company Profile :
Surprise Solutions is a highly professional IT services & solutions company delivering quality web solutions for the most demanding projects. We offer a range of web development services including consultancy and application support. We combine business domain knowledge with technology competence and proven methodologies to deliver high quality results in a cost-effective manner to maximize your competitive advantage and productivity.
We are a NASSCOM registered member & are ISO 9001 certified for our stringent delivery processes. Surprise Solutions' lively team of techno geeks thrives on building strong client relationships & we go all out to deliver the best value and ROI for our clients. We use the best coding standards and guidelines in project management, design and software development. Surprise Solutions' working model promotes a result-driven interactive approach and promises supreme customer service with regards to quality, cost and customer's vision.
Job Description:
1. Maintaining and developing relationships with existing customers in person and via telephone calls and emails;
2. Responding to incoming email and phone enquiries;
3. Representing the organization at trade exhibitions, events and demonstrations;
4. Advising on forthcoming product developments and discussing special promotions;
Candidate Profile:
1. Listening to customer requirements and presenting appropriately to make a sale;
2. Cold calling to arrange meetings with potential customers to prospect for new business;
3. Negotiating the terms of an agreement and closing sales;
4. Gathering market and customer information;
5. Negotiating on price, costs, delivery and specifications with buyers and managers;
6. Challenging any objections with a view to getting the customer to buy;
7. Reviewing your own sales performance, aiming to meet or exceed targets;
E-Mail: cv@surprisesolutions.com
Contact Person: Ajay (9884804775)
Interview Dates : March 17th to March 21st, 2014.
Interview Time : 10.00 AM to 12.30 PM & 2.30 PM to 4.00 PM.
Office address:
SURPRISE SOLUTIONS
97/98, Jawaharlal Nehru street,
Ashok Nagar, Chennai – 83.
Landmark : Nest to Kasi Theatre,
Hotel Saravana Bhavan complex 2nd floor.