Data Scientist Freshers Jobs in Chennai
By
Admin
on April 27, 2019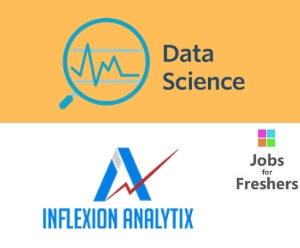 Company Name: Inflexion Analytix Private Limited
Experience: 0 – 2 yrs
Salary: 3,25,000 – 4,50,000/p.a
Location: Chennai
Walk-In Date: 22-Apr-2019 to 20-May-2019
Venue: 17 North Street, 2nd Floor, Sriram Nagar Alwarpet, Chennai, Chennai, Tamilnadu – 600018, India
Job Description
What do we expect from you?
BE, B.Tech, ME, M.Tech, MSc, BSc, MSc Maths and Statistics, B Com, BCA, BSc CS, BSC IT, MSC IT, MCA
Skills relating to Mathematics, Statistics.
Graduate, Engineer, Post-Graduate with a huge interest in handling numbers
Ability to understand all domains in businesses across various sectors
Natural passion towards
Numbers, business, coding, Analytics, and Artificial Intelligence, Machine Learning, visualization
Good verbal and written communication skills
Freshers who wish to start their career in Analytics
Laterals who wish to up a skill or change their domain to analytics and emerging technologies
Selection procedure includes 
Round 1: (Aptitude Test – Quantitative, Data interpretation, and Verbal)
Round 2: Written Communication Test
Round 3: One on One Discussion / Logical Test
Round 4: Technical Interview
Outcome?
Analyze large and complex data sets from multiple sources
Develop and evaluate data analytics models, algorithms and solutionsAnalyze the information, identify patterns and trends
Understand/implement MI algorithms, per
performance tuning and reportingImplement algorithms to mine targeted data and the ability to convert data into a business story
Translate business requirements into technical requirements
Data extraction, preparation, and transformation
Identify, develop and implement statistical techniques and algorithms that address business challenges and adds value to the organization
Gather requirements and communicate findings in the form of a meaningful story with the stakeholders create and implement data models interact with clients for queries and delivery adoption
Functional Area: Analytics & Business Intelligence
Role: Data Analyst
Keyskills: AI, Data analytics, Machine learning, SQL, Tableau, Informatica, NLP, Deep learning, python
Company Profile:
Inflexion Analytix Private Limited
Center for Artificial Intelligence and Advanced Analytics (Center for AIA) is the brainchild of experienced and visionary alumni of IT Madras and Bombay. Digital leaders 5F World and Systech Solutions have joined hands to create a venture for architecting the future of society, workforce, governments, and businesses. 5F World specializes in designing solutions around digital platforms and Systech Solutions has expertise in architecting Artificial Intelligence and Advance Analytics solutions for Fortune 500 companies.
Recruiter Name: Manivannan and Koodes
Email-Id: koodeswaran@centerforaia.com, manivannana@centerforaia.com
phone: 9003322872