JAVA Fresher Job Opening in Chennai
By
Admin
on December 4, 2019
JAVA Fresher Job Opening in Chennai
Company Name: GAD-A-GET Computers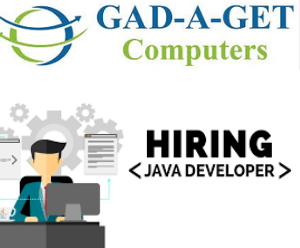 Experience: 0-1 Year
Salary: ₹ 1,25,000 – 1,50,000 P.A.
Location: Chennai(Arumbakkam)
Job Description:
Greetings from GAD-A-GET Computers.
We are looking for Java Developer who should have skills like JAVA, CORE JAVA, HTML, JAVASCRIPT, OOPS, CSS. Male Candidates Only.
Good Knowledge in JAVA Concept
Should take care of coding & development
Responsible for development, support, maintenance and implementation of a research project.
Strong coding skills in JAVA technologies
To work in Java on Windows-based & Web-based applications Development.
Strong Knowledge understanding web application development using JAVA & J2EE.
Good knowledge of MS Access and SQL server
Industry: IT-Software / Software Services
Functional Area: IT Software – QA & Testing
Key Skills:
CSS, Core Java, MS Access, OOPS, Web Technologies, Javascript, HTML, J2Ee, Web Application Development, SQL Server.
 Education:
UG: B.Tech/B.E
PG: M.Tech
Doctorate: Doctorate Not Required
Interview Dates: 03-12-2019 to 31-01- 2020
Interview Time: 02:00 PM
Company Profile:
GAD-A-GET Computers is primarily into Software Development and Testing for its Clients in the US and India. We are also in the process of Expanding into CRM/CTI (Customer Relationship Management) / (Computer telephony integration) Domain.
Contact Details:
Interested Candidates, Please contact or Walk-in to below Address
Interview Venue:
Address:
#931, Ramaniyam Citadel,
P.H Road, Arumbakkam,Ch-106
Contact number: 9176849212
Mail ID: hr@gadaget.in