Job Openings for Data Scientist
By
Admin
on March 6, 2019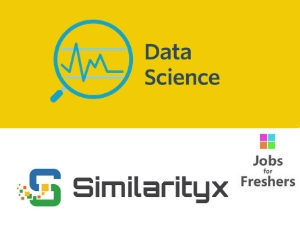 Company Name: Similarityx Solutions Private Limited
Experience: 0 – 2 yrs
YOP: 2015/16/17 Pass outs
Salary: 2,25,000 – 3,00,000/p.a
Location: Chennai, Bangalore, Hyderabad
Job Description
Perform design, creation, interpretation, and management of large datasets to achieve analytics goals
Perform data updates, indexing, and maintenance in an application database
2015,16,17 pass outs and Career change aspirants welcome.
Industry: IT-Software / Software Services
Functional Area: Analytics & Business Intelligence
Role: Data Scientist
Key skills: Business analytics, Data management, Data mining, Data analysis, Tableau, Hadoop, QlikView, SQL Server, Oracle, Machine Learning
Education
UG: B.Tech/B.E/B.Sc – Any Specialization
PG: MCA /M.Tech – Any Specialization
Company Profile:
Similarityx solutions private limited
Simliarityx is a Data Science company based out of Chennai. Please visit the website for more details.
Recruiter Name: Sruthi
Address: Thankgod Mansion,1st floor F2, 596, Velachery – Tambaram Main Road, Selaiyur, Chennai, Tamil Nadu 600 073
Email-Id: careers@similarityx.com
phone: 9121984435
For getting expert-level training for Linux training in your Location – Data scientist training in Chennai | Data Analytics Training in Chennai | Machine Learning training in Chennai