Openings For PHP Developer
By
Admin
on December 6, 2019
Company Name: Soft Suave
Who can apply: 0-2 Years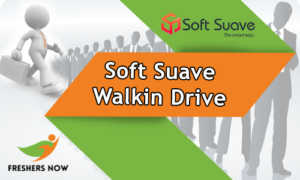 Qualification: Any Degree
Salary:₹ 1,50,000 – 2,00,000 P.A.
Key skills: CSS, WordPress, Javascript, PHP, HTML
Location: Chennai
Job Position: PHP Developer
Interview Date: Dec 9 & 10 , 2019
Interview Time: 11:00 am to 2:00 pm
Job Description:
We are looking for a PHP developer having 0 to 2 development experience in PHP & MySQL with a real passion to build & deploy challenging web applications. Must be proficient in CorePHP, WordPress, HTML, CSS.
Address: Soft Suave Technologies, #100, 3 Lakeview Estate Building, M S Nagar, Kundrathur Main Rd, Porur, Chennai.
Contact: Prerna Roy ( 044-42874244 )
Job Skills:
Good knowledge in front-end technologies, including HTML5, CSS3, WordPress
Strong understanding of PHP back-end development
Comfortable with building user interfaces for websites
Experience designing and developing a responsive design website
Understanding CSS changes and ensure consistent style across platforms and browsers
Software Developer
IT-Software / Software Services
IT Software – Application Programming
,
 Maintenance
Full Time, Permanent
Programming & Design
Soft Suave is a fast growing Information Technology (IT) company headquartered in one of the largest technology-hubs in India Chennai with a sales office in Catonsville, MD United States. Soft Suave is specialized in providing end-to-end IT Services and Solutions to mid-market and Fortune-500 across the USA, UK, Australia, France, Denmark, Iceland, UAE, and India. We have a significant expertise and a best-in-class track record in creating and delivering high-value IT-enabled business solutions. We provide rapid and cost-effective Enterprise Solutions in several key areas including Web Application Development, Mobile Application Development, Cloud Computing and Legacy Modernization.