Python Developers Job in Chennai
By
Admin
on December 7, 2019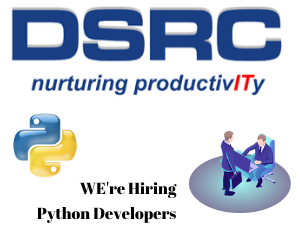 Company Name: Data Software Research Private Limited.
Required Experience: 3 to 5 years.
Salary: Not Disclosed
Job Description:
Greetings from DSRC!
Are you ready to take your technology expertise to the next level? Join DSRC and be part of a digitally-driven and innovation-led work environment.
DSRC provides competitive compensation that is revised purely on performance, flexible work hours and an office located centrally in Chennai city easily accessible via public transport.
Job Description
Excellent programming skills in Python and Django.
Previous experience with Django REST Framework is more than welcome.
Excellent knowledge of PostgreSQL and relational databases in general.
Excellent knowledge of frontend (web) technologies, including HTML5, CSS3, JavaScript and JQuery.
Knowledge of Angular is highly desirable.
Knowledge and previous experience with D3.js, HighCharts is desirable.
Previous experience with Web Scrapers and/or Web Crawlers is more than welcome.
Solid knowledge with OO design, thread synchronization, and data structures.
Self-motivated to discover, learn, suggest new tools, languages, frameworks, and libraries.
Interested candidates can share your updated resume to  jobs@dsrc.co.in  to schedule an interview.
Role: Software Developer
Industry Type: IT-Software / Software Service
Functional Area: IT Software- Application Programming, maintenance
Employment Type: Full Time- Permanent
Role Category: Programming & Design
Education: Any Graduate in Any Specialization
Key Skills:
Rest, Software Development, Django, Html5, Postgresql,
Python Developer, Javascript, Bootstrap, JQuery, D3.Js, Python.