Collabera Jobs Opening for Freshers in Vadodara
By
admin
on March 8, 2015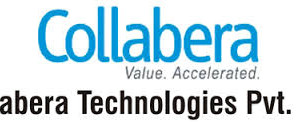 Company        Collabera
Website            www.collabera.com
Eligibility          BE/B.Tech/BSC/BCA/MCA
Experience     Freshers
Location           Vadodara(Baroda), Gujarat
Job Role           Talent Acquisition Specialists C
JOB SUMMARY:
Company Profile:
Since 1991, Collabera has been a leading provider of IT staffing solutions and services. We are known for providing the best staffing experience and taking great care of our clients and employees. Our client-centric model provides focus, commitment and a dedicated team to help our clients achieve their business objectives. For consultants and employees, we offer an enriching experience that promotes career growth and lifelong learning.
Job Description:
Responsibilities :
1. Understand and learn the details of each job requisition and its requirements, project location, duration, etc.
2. Understand the priority of the requisition and the differences between direct and process requirements
3. Identify qualified technical candidates utilizing various sources – available employee consultants on bench, resume database, employment web sites, referrals, own network, other recruiters, contractors, etc.
4. Conduct preliminary interview to qualify the candidate – assess technical skill level, communication skills, location preferences, salary expectations, need for accommodations, etc.
5. Format resumes to highlight the necessary skill sets as it relates to client project requirements and in accordance with client's resume submittal guidelines
6. Negotiate pay rates with consultant candidates in alignment with client requirements and delivery manager's or account manager's direction
7. Submit appropriate qualified resumes for each requirement as required by client
8. Post internet ads on employment websites and send the same to employees, sub-tier companies as necessary
9. Check Hotlists from vendors
10. Follow established recruiter processes regarding job expectations, documents, templates, e-mail standards, initial communication with candidates, etc. as outlined in the recruitment training
Candidate Profile:
Qualifications :
1. BE/B.Tech/BSC/BCA/MCA (2013 and 2014 graduates with little or no experience)
Required Skills:
1. Excellent communication & PC Skills