Devops Fresher Jobs in Hyderabad
By
Admin
on February 8, 2019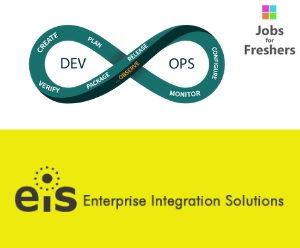 Company Name: EIS Technologies
Experience: 0 – 1 yrs
Location: Hyderabad (Gachibowli)
Job Description
Requirement:
Knowledge on Version Control (Software Configuration Management: configurations to application setup, integration etc.)
Knowledge on Build workflows from Compilation, Test, Deploy phases etc. and Building Infrastructures
Knowledge of Jenkin tools required to build and automate and optimize this workflow to create reproducible predictable environments.
Setup, integrate, and maintain tools.
Setting up tools to monitor systems and operations health, performance data for Visualization.
Knowledge on Log Management: Setting up tools to centrally collect and manage logs.
Troubleshooting and Support of the applications.
Knowledge on End to End CI and CD for applications.
Knowledge and Understanding of Agile Methodologies.
Bachelors degree in B.Tech/BCA/MCA/M. Sc with min 60%
Decent Communication skills.
Industry: IT-Software / Software Services
Functional Area: IT Software – Application Programming, Maintenance
Role: Software Developer
Key skills: Build, version control, software configuration management, Build Release Engineer, DevOps Engineer
Education: Any Graduate
Company Profile:
EIS Technologies Private Limited
Founded in 2001, EIS Technologies (EIS) is an Oracle Platinum Partner and dedicated to empowering our clients and employees through success-oriented services and technologically advanced software solutions. Capabilities include both a broad range of professional services and "Oracle Validated Integration" certified business analytics and reporting products. The solution offers over 1300 pre-built reports enabling actionable intelligence. The EiS Professional Services team of certified specialists leverage deep knowledge that spans Oracle's full suite of products: Cloud Services, Fusion Middleware, Taleo, PeopleSoft, E-Business Suite and more.
Recruiter Name: Raj Kiran Jakkula
Contact Company: EIS Technologies Private Limited
Address: Plot 17, Jayabheri Enclave Gachibowli, Hyderabad, Telangana, India 500032
Phone: 04029889982