Jobs Openings for Web Developer
By
Admin
on January 25, 2019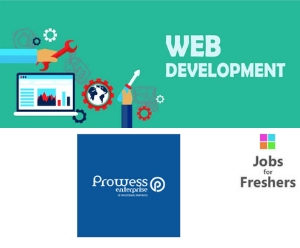 Company Name: Prowess Enterprise (India)Pvt Ltd
Education: B. Tech/ BE ( CSE, IT) /M.Tech/MCA
Who can apply: Freshers
Key skills: C, Java, HTML, Bootstrap, JavaScript, AngularJS, OOPS
Location: Hyderabad, Telangana
Job Description
Grab this opportunity for freshers – Engineering Graduates – 2018 & 2019
Join our team and utilize leading-edge technology to configure, develop, deliver and support applications for our clients. As a Trainee Graduate, you will be able to gain valuable on the job training while building in-demand technical skills. You will be a part of our challenging projects to build and support technical solutions for our client needs.
Depending upon the project, you could find yourself developing advanced skills in technologies such as Java, SAP, SAP MII/ME, SAP SuccessFactors, C#, Oracle, AI, NLP, and Salesforce, among others
Responsibilities:
Candidates must have a Bachelors/ Masters in Computer Science or B. Tech/ BE ( CSE, IT) graduates scoring minimum 60% (in aggregate). 2018/2019
Excellent problem-solving skills.
Possess an extremely sound understanding of areas in the basic areas of Computer Science such as Algorithms, Data Structures, Object Oriented Design, Databases.
Be able to write quality code in an object oriented language preferably in C/C++/Java in a Linux environment.
Internship or one year experience in programming languages, methodologies and Object Oriented Programming (preferred)
Ready to work in a start-up environment.Display a positive attitude, be adaptable with a go-getter attitude
Candidate must have good written and oral communication skills, be a fast learner and have the ability to adapt quickly to a fast-paced development environment.
Software Development Engineer who can build innovative & mission critical system software applications & tools.
Develop and implement new software programs
Maintain and improve the performance of existing software
Clearly and regularly communicate with management and technical support colleagues
Design and update software database
Test and maintain software products to ensure strong functionality and optimization
Recommend improvements to existing software programs as necessary
You will have an enormous opportunity to make a large impact on the design, architecture, and development of consumer products.
You will be responsible for the delivery and support of large-scale, multi-tiered, distributed software applications and tools.
HR Department will get in touch with you directly & initiate the interview process.
Industry: IT-Software / Software Services
Functional Area: IT Software – Application Programming, Maintenance
Role: Web Developer
Company Profile
Prowess Enterprise ( India ) Private Ltd
We focus on providing IT consulting services & software solutions in SAP suite, Oracle, Artificial Intelligence, Business Intelligence, and Salesforce.
We also concentrate on Creating IT Value using application services, infrastructure, and Business Process Outsourcing by delivering through onsite, nearshore, and offshore resources. We deliver custom solutions, tailored to you – your industry, your culture and any kind of challenges of yours.
We deal with integrating SAP, Oracle and Salesforce applications with other products and with BI Integration Services.
The organization was founded by seasoned entrepreneurial leaders with 20 years of experience in SAP and Salesforce. Our global success is based on a highly expert team of technocrats, with a rich experience in implementation, support, migration, and upgrade in every aspect of SAP, Oracle, and Salesforce.
Benefits
Medical insurance provided by the company.
Address: Vivana Road, Siripuram, Visakhapatnam, Andhra Pradesh 530002
Phone: 0891 663 3909