HCL Jobs Opening for Freshers in Chennai,Coimbatore
By
admin
on April 1, 2015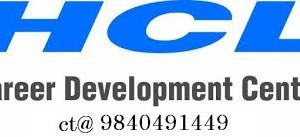 Company      HCL
Website        www.hcl.com
Eligibility       B.Com/M.Com/BBA/BA/MA/BBM
Experience    Freshers
Location          Chennai,Coimbatore
Job Role          Analyst
JOB SUMMARY:
Company Profile:
HCL is a $6.3 billion leading global technology and IT enterprise comprising two companies listed in India – HCL Technologies and HCL Infosystems. Founded in 1976, HCL is one of India's original IT garage start-ups. A pioneer of modern computing, HCL is a global transformational enterprise today. Its range of offerings includes product engineering, custom & package applications, BPO, IT infrastructure services, IT hardware, systems integration, and distribution of information and communications technology (ICT) products across a wide range of focused industry verticals.
Job Description:
1. Work with and assist other associates in meeting common goals.
2. Partner with TLs, managers, and support teams to deliver accurate and timely financial information to clients.
3. Analyse unique and recurring situations, come up with solutions and continuously improve processes, all with limited management interaction.
4. Develop expertise with few repetitions.
5. Update and follow existing tracking mechanism , log the errors and ensure timely correction of faults so that the recon process adhere to the specified timelines.
6. Should be willing to work in shifts.
Venue:
PSG COLLEGE OF ARTS & SCIENCE
Avinashi Road, Civil Aerodrome Post, Coimbatore
Time: 9AM-12PM