Bhiraniya Technologies Jobs For Freshers In Haryana
By
admin
on February 23, 2013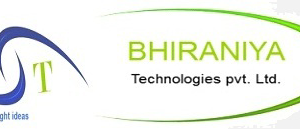 Bhiraniya Technologies Jobs For Freshers In Haryana
Job Category: IT/Software

Job Role : Software Developer
Last Date: 25 February 13
Job Type: Full Time

Hiring Process: Face to Face Interview.
Job Details
Qualification :
BE/ B.Tech – ( CSE/ IT/ IS) / BCA/ MCA candidates from 2011 / 2012 batches.
Job Description :
Selected candidates will have to work on live projects.
Skills Required :
Knowledge of .Net or Java.
Good communication skills.
Salary : INR 1.0 – 1.5 lacs P.A
Location: Haryana-other
Bhiraniya Technologies Pvt. Ltd is a leading company works in .Net and Java. Bhiraniya Technologies is an ISO certified company. Bhiraniya Technologies is a leading company located in Dharuhera (Haryana) and believes in satisfaction of the customers. We develop websites as well as provides industrial training along with job surety depends on the performance of trainees. We also provides AMC Services along with customer support on contract basis. Bhiraniya Technologies makes your website online by providing domain.
| | |
| --- | --- |
| Company Type | IT and Computer Science |
| City | Dharuhera |
| State | Haryana |
| Company Head Office | Bhiraniya Technology Pvt. Ltd. P.N.B Building, 2nd Floor, Sohna Road, Daruhera, Distt.- Rewari, Haryana |
| Established On | |
| Contact Number | +91 7737179171 / +91 9466772079 |
| Email | bhiraniyatechnology@gmail.com |
| Website | http://bhiraniyatechnologies.com/ |