NCAOR Freshers Walk-In Interview in Goa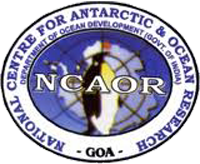 Company Name: National Centre for Antarctic & Ocean Research
Company Profile :
The National Centre for Antarctic and Ocean Research (NCAOR) was established as an autonomous Research and Development Institution of the Ministry of Earth Sciences (formerly Department of Ocean Development), Government of India on the 25th May 1998.
With a mission mandate that is quite challenging, the Centre is designated as the nodal rganization for the co-ordination and implementation of the Indian Antarctic Programme, including the maintenance of India's permanent station in Antarctica. Spread across 147,660 sq. mts sprawling area, set atop a picturesque plateau, NCAOR is located in India's most seafaring state of Goa.
Company Website : http://www.ncaor.gov.in
Job Designation or Job Role: Shipboard Assistant
Candidate Educational Qualification: B.Sc. in any branch of Science or Diploma in Engineering Essential : Holding valid Passport.
Candidate Experience Required : Freshers 0 Years
CTC or Package Offered: 12000/- + Rs.100 per day for stay onboard ship.
Working Location: Goa
Functional Area : Govt Sector
Desired Candidate Profile & Job Description:
Sl.No.
Name/No. of Post
Qualification
Stipend 
Age
1
Shipboard
Assistant /02
B.Sc. in any branch of Science or Diploma in Engineering Essential : Holding valid Passport.
Desirable :Experience in sailing onboard ships, preferably research ships
Rs.12000/-

30 Years
Walk in Interview will be held on 01.02.2013 0930 AM at NCAOR, Headland Sada, Vascoda-Gama, Goa – 403 804.


The posts are purely temporary and on contract mode. Candidates fulfilling the prescribed eligibility conditions are invited to attend a walk-in interview at NCAOR on 1/2/2013 (Friday).
(Registration will start from 9.30 a.m. to 10.30 a.m. on 1/2/2013. Candidates reporting after registration time will NOT be allowed to attend interview. Interview will start from 11:00 a.m. onwards and may continue to next day depending on the number of candidates reporting).
Consolidate Emoluments : Rs. 12,000/- p.m. + ship allowance of Rs. 100/- per day during the stay onboard.
Age limits: Should not exceed 30 years as on the date of interview. Age relaxation to the employees of GOI and SC/ST/OBC as per GOI norms.
Reservation: As per GOI norms. However being a temporary and contractual mode position, if such suitable candidate is not available, the same will be treated as unreserved.
Tenure: The posts are purely temporary basis. The assignment is initially for period of one year, which may be curtailed/extended depending on performance of candidate and requirement.