Rozgaar Express 2013 Offcampus for Freshers In Haryana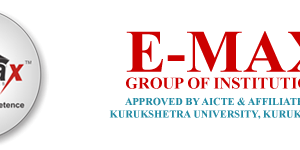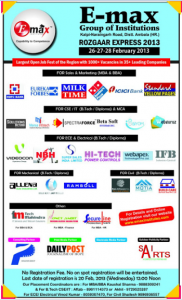 Emax Group of Institutions is organizing Regions Largest Open Job Fest "Rozgaar Express 2013" on 26-27-28 February, 2013 in which over 35 Companies are participating for MBA, B.Tech & Diploma (Computer Science, Electronics and Communication, Electrical, Civil & Mechanical).
Rozgaar Express 2013 scheduled on 26-27-28 Feb, 2013 (Tuesday – Wednesday – Thursday) at Emax Group of Institutions. 36 Companies are Visiting in 3 Days – 12 Companies in a single day.
Eligibility : Batch 2010, 2011, 2012 and 2013 of Diploma / B.Tech of CSE/IT/ECE/Electrical / Mechanical / Civil / EIE. MBA (Marketing, Finance, HR & Operations), BBA, BCA, BA. Candidates needs to do separate registrations for different companies.
Participating Companies:
For CSE / IT
Mansa Infotech,
Beta Soft Systems Inc,
Spectraforce,
Saiyom Software's Pvt Ltd,
Solutions Beyond
Webguruz
 For MBA
Standard Yellow Pages,
Eureka Forbes,
ICICI Bank,
HDFC Bank,
Milk Time Specialties Pvt Ltd,
Dominoz,
Secure Line and
Money Ambit
For Electronics and Electrical
Videocon,
Super Sales India Ltd,
NBH Controls & Automations Pvt Ltd,
Hi-Tech Power Controls,
IFB Industries Ltd and
WebApex Technologies Pvt Ltd
For Mechanical
Allena Automo Industries Pvt Ltd,
Irle Kay Jay rolls Pvt Ltd,
Ramboll India Ltd
For Civil
Bara Infotech,
Motia Group
BuildCare
Last date of registration is 20 February 2013 (Wednesday) till 12 Noon. No Registration Fee. No Entry without registration.
Number of Vacancies: Around 800
Please Carry below documents (mandatory) :
• Multiple Resume Copies
• Hall Ticket
• Photo ID proof
Walk-In Date(s) : On 26th, 27th & 28th February 2013
Venue of Placement :
Emax Education City, Kalpi – Naraingarh Road,
Distt Ambala (Haryana)
Phone : 01734269702
Placement Coordinators are :
• For MBA : Kaushal Sharma @ +91-9888309241,
• For B.Tech CSE/IT : Aftab @ +91-8901114373 or Akhil @ +91-9729525287,
• For Electronics/Electrical (ECE/EEE) : Vinod Kumar @ +91-8059307470,
• For Civil : Shailesh @ +91-9896936557.
Free Transportation from nearby Cities (Ambala, Yamunanagar, Kurukshetra, Chandigarh, Panchkula). For Transportation Details contact Transport Incharge at +91-9996785906
Note: Last date of registration is 20 February 2013 (Wednesday) till 12 Noon. No Registration Fee. No Entry without registration