Customer Executive Job Openings for Freshers in Delhi
By
admin
on October 24, 2016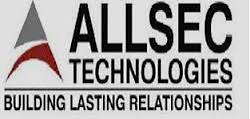 Company   Allsec Technologies
Website            https://www.allsectech.com/
Eligibility  BE, B.Tech,MCA,M.Sc
Experience        Freshers
Location             Delhi
Job Role       Customer Executive
JOB SUMMARY:
Company Profile:
Allsec is a global organization with vast abilities in providing trade procedure options across various industry verticals. Centered in 1998, Allsec technologies limited started out as an integrated contact center for businesses aspiring to outsource their help processes. Gaining over 15 years of area experience, the corporation has rapidly increased with acquisitions throughout the globe and has elevated its competencies to a wide gamut of methods that augment and support organizations.
Allsec's brand is built around a core of expertise, meritocracy and continuous improvement. The spirit of enhancement among our people and an organizational commitment to continuous personal and professional development keeps us at the forefront in this fast-changing and demanding industry.
Allsec's well-structured recruitment process attracts a large number of talented young people from the resource pool available in India and the Philippines. Being recognized as an Employer of Choice in this industry, it reinforces our resolve to attract, retain and nurture talent of our Human Capital through our Employee-centric work culture. We manage motivation and retention through a highly structured career path, cross-functional opportunities and performance-oriented incentives.
According to a recent Demand Gen Report, marketers' top three priorities are identifying their most valuable customers, capturing and integrating customer data, and personalizing customer communications while their biggest obstacle is dealing with multiple, disparate systems.
Job Description:
* Candidate should be BE/B Tech/MCA/M Sc from a recognised university.
* Candidate should have an aggregate of 65% through out academics.
* Should be able to adhere to Collection tool strategy and work flow management goals.
* Should ensure 100% ledger coverage & accurate problem coding in timely manner.
* Should meet daily Call Targets to be met.
* Should meet timely penetration of disputes.
* Must be able to provide accurate weekly/monthly/quarterly projections against collector goals.
* Should have knowledge on SLA adherence on mailbox, voicemail, follow ups closure.
* Must be able to communicate & follow up effectively with sales dept regarding customer accounts on a timely basis.
* Should have fluency in English.
* Should have good communication skills.
* Should have good problem solving and trouble shooting skills.
For a real time training for software courses in your location – Software Training | Software Training Bangalore
For getting online training Online Training