Technical Support – IT Freshers – Night Shift
By
Admin
on February 16, 2018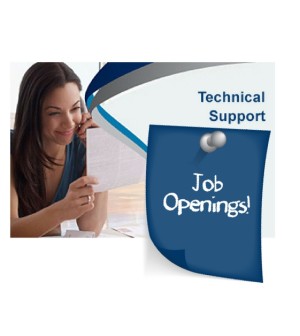 Job Description
Key Responsibilities & Accountabilities:
#Responsible for the following schedules/resolving customer cases and abide by the prescribed norms.
#Maintain the highest level of technical and process expertise, specific to the industry, client processes, applications/utilities and products.
#Maintain the highest level of soft-skills and telephone etiquettes.
#Handle cases/schedules and escalations appropriately.
#Share the technical expertise, soft-skills and telephone etiquettes with the team.
#Share latest technical/process related inputs with the team.
#He/She is supposed to maintain 100 % quality in terms of documenting the cases with the required information(complete and detailed documentation of the resolution and the root cause)
#Reporting to work on all the scheduled day and not taking an unplanned absenteeism.
#Follows & Promote the company culture, its vision & values.
Designation: Software Specialist
Reporting Structure: Software Specialist Teamlead Manager
Location : Andheri (e) Shift – Night
Home pick up and drop till Vasai, Thane and Belapur.
Website: www.eclinicalworks.com
Job Specifications
#Good understanding of Architecture.
#Good understanding of Servers (Application, Database & FTP).
#Good Networking Concepts.
#Knowledge of Linux, MySql, MsSql Servers.Human Resource
#Good understanding of program languages (Java , Visual Basics).
-Interested candidates kindly share the updated CV at somiya.moolya@eclinicalworks.com-
Salary:INR 2,00,000 – 3,00,000 P.A.
Industry:IT-Software / Software Services
Functional Area: Other
Role:Other
Employment Type:  Permanent Job, Full Time, Freshers
Keyskills
 SQL | Database | MySQL | Java | Technical Process | Night Shift | Technical Support | Root Cause | Soft Skills | Team Leading |
Company Profile:
Eclinicalworks India Pvt Ltd
eClinicalWorks is a privately-held, leader in ambulatory clinical solutions. Its technology extends the use of electronic health records beyond practice walls and creates community-wide records. The company has an established customer base of more than 85,000+ physicians and 545,000+ users across all 50 states with revenues for 2013 exceeding $300 million.
eClinicalWorks is headquarted in Westborough, Massachusetts, and has additional offices in the USA at Chicago, New York City, California and Georgia. India offices are located in Mumbai, Ahmedabad and Bangalore
Recruiter Name:Somiya Moolya
Contact Company:Eclinicalworks India Pvt Ltd
Regards,
Somiya Moolya
Human Resource
eClinicalWorks
Boomerang,7th Floor,
Main Chandivali Farm Road,
Near Chandivali Studio,
Andheri East Mumbai:400072
T: 02267375000
M: 8879655371
For getting expert level training for Java Training in your location – Java Training in Chennai | Java Training in Bangalore | For getting Online trainingIn Java-Java Online Training